The Police Digital Service has launched a Social Media Management & Engagement Framework for policing, blue light services and local authorities, paving the way for increased consistency in service delivery to the public, with potential for a central triage point for all public interaction.
The new framework gives forces control over how they meet nationally agreed standards for social media management aligned with the National Policing Digital Strategy, while providing choice, flexibility and value for money to forces. Following a rigorous procurement process, Orlo (SocialSignIn Ltd) and Softcat, in partnership with Salesforce, have been named as the successful suppliers to the framework.
PDS CEO Ian Bell said: "I am delighted that the Police Digital Service can now offer this framework, which, through national coordination, provides for a menu of options to suit local needs from content management through to the ability to facilitate social media as a 24/7 digital contact channel, if desired.
"Unlike many other organisations, policing has specific requirements to enable the reporting and recording of crimes and incidents made via social media in the same manner, and to the same standard, as we do with 999 or 101 services. The explosion of social media, and the plethora of information now available to the police, provides both challenge and huge opportunity – this information is incredibly powerful if managed well.
"The successful suppliers on the framework were able to demonstrate an effective approach to supporting this, ensuring the public have choice on which channels to use to interact with their local force."
Other benefits of the framework include:
Making it easier for forces to listen and respond to communities, helping build and maintain trust in local policing tackling the things that matter most to the public;
Meeting criminal justice standards with auditing capabilities which can be exported in secure, tamper-proof evidence reports;
Availability through direct award or mini competition to all blue light services, police and crime commissioners' offices and Local Authorities;
Accessibility for frontline officers from a mobile app via force-issued mobile phone or tablet;
The ability to access basic data insights on external users including influence, key words, type of content, demographic information and location;
The ability to pause all scheduled content in the event of managing a critical incident;
The facility to host and maintain a content management library, accessible to everyone in the organisation.
The framework supports the work of the National Police Chiefs' Council's (NPCC) Lead for Social Media and Digital Engagement, Surrey Police Chief Constable (CC) Gavin Stephens, who has worked with force colleagues in contact services, corporate communications and local policing forces to create and develop a Target Operation Model (TOM) for the integrated use of social media across forces.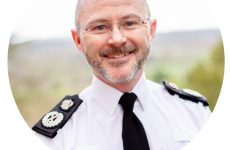 CC Stephens, said: "To have a procurement framework available for all of UK policing is a huge achievement and the result of years of hard work across the portfolio and through the valued support of policing's communications teams.
"More so now than ever we need to efficiently and effectively engage online which this framework allows us to do. Importantly, it has been built by our needs and saves forces time and money.
"The new approach to online services and social media has been implemented by a number of forces already. I hope that having this new opportunity makes it an even more attractive offer for those considering it as their next step."
The development and delivery of this framework is the result of a coordinated national approach aimed at enabling local implementation aligned with three of the National Policing Digital Strategy's five ambitions:
Supporting provision of more choice in how the public engages with the police using the channels, media and devices that are most relevant to them;
Equipping our people with the right knowledge, skills and tools to deal with increasingly complex crimes; and
Working to enable technologies to become more easily sourced, scaled and made available by strengthening relationships to allows for public safety responsibilities to be appropriately shared.