This April marks the Police Digital Service's (PDS) first year of operating. We have made significant strides forward, working with pace and purpose to support delivery of our strategic ambitions within the National Policing Digital Strategy. We're working hard to keep the public safe by harnessing digital, data and technology capabilities to create a "seamless citizen experience" whilst "addressing harm".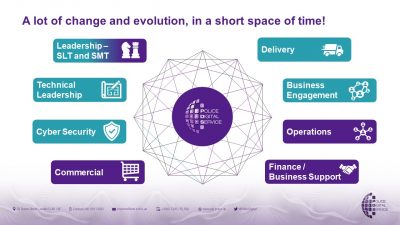 Throughout, PDS has been continuing to develop and grow to ensure that we can offer the best possible service for the policing service and partner agencies, whilst bringing online new capabilities in partnership with the tech industry.
Key achievements
New areas of the Service are coming online, resourcing to support other areas of the business. Our new Cyber Services function, offers a nationally coordinated, locally delivered centre of expertise providing cyber security services to allow digital trust between the citizen and police forces, whilst enhancing legislative compliance. This includes provision of the National Management Centre (NMC), a nationally-supported cyber security protection facility for police forces across England and Wales. In the last year, the NMC's Protective Monitoring service investigated 72,000 incidents across all forces and partnering organisations, averaging 6,000 per month. These efforts help to ensure that the police service is protected from ever-present threats.
Partnership has been an important part of our ongoing work and in the first few months we launched Memorandum of Understanding with techUK. We've continued to extend this through our collaborations with key partner agencies, taking a "whole public system approach" with our work across the criminal justice community with our widening range of transformation projects. Our National Standards platform brings together UK policing, the Home Office and suppliers, in a common approach to sourcing, promoting and adopting standards in line with the National Policing Digital Strategy. We're continuing to work closely to "empower the private sector" by working closely with a range of suppliers in the tech industry, from Amazon Web Services and Adobe, through to Microsoft and Netmotion. This can be seen in our wide range of commercial opportunities.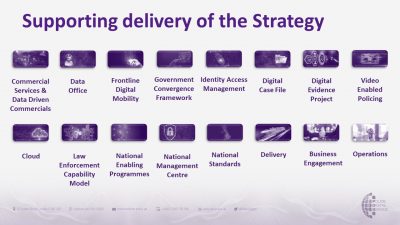 We've successfully completed the delivery of key national digital policing initiatives, with most of the milestones met for the 13 Home Office funded programmes within the PDS portfolio. We're growing a range of new capabilities "enabling officers and staff" to work smarter with digital, data and technology. This includes the recent completion on the 31st of March of:
The National Enabling Programmes, which has enabled police forces across England and Wales to transform the way they work and collaborate.
Our transition programme, assisting forces and partner agencies to transition away from the Government Convergence Framework, that provided one solution for sending and receiving information digitally and securely (via email). This has been completed, whilst ensuring business continuity through alternative arrangements for the organisations involved.
More to come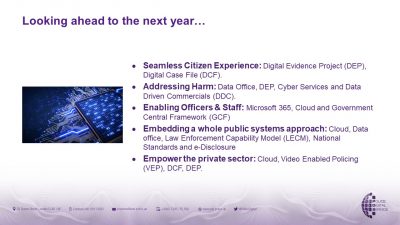 Looking ahead to the new financial year, we are set to get off to a flying start with new initiatives planned or already underway.
We would like to take this opportunity to thank the policing and wider law enforcement community, along with our partners across government, for their support during 2021/22.
If you want to know more about working with the PDS click here and you can also find out more about commercial opportunities available now.
Subscribe for email updates from the Police Digital Service here.