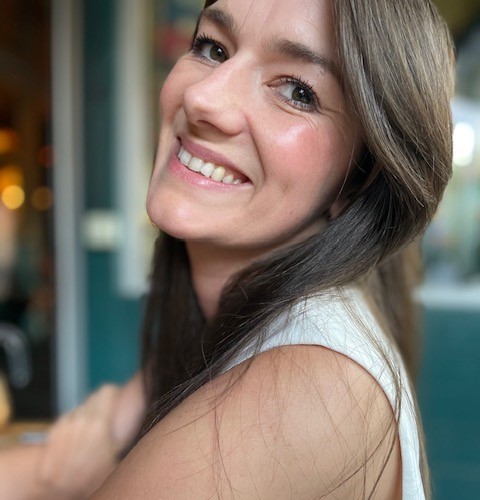 A Day in the Life of...
Learning & Development Manager, HR 
Learning from others and seeing others learning from connecting with colleagues, new and old.
I started my career in a completely different field – Antique Jewellery! I love learning and after doing a History of Art degree at uni and a Gemology post grad diploma I went into the world of auction – I loved the theatre of auctioneering and the interesting people you meet, but my favourite part was always learning and sharing the history of the pieces we offered. Seeing our clients face light up when they learned about the journey of the gemstones in a piece they admired, was always so rewarding. When I progressed in my career and became a manager, my passion for antique jewellery was surpassed for my passion for helping people to be the best they could be. I loved coaching my team and seeing tenured "underperforming" team members that the rest of the company had "written off", suddenly get their spark back and smash all of their targets, after genuinely taking time to listen and support them was even more rewarding than the hammer coming down for 60 million on a huge pink diamond! I turned my practical experience into a professional level 7 executive coaching qualification, which I studied with ILM and I wanted more!


Following a thirst to learn more about how I could support my team even better, I completed a distance learning qualification in HR management (CIPD Level 5) with Avado. It was challenging to juggle a full time job and a busy mum life with my studies but the energy came from my interest in the subject… and I've always loved a plan, so I completed the course after 18 months. It was from here really that I started to gravitate towards a specialised career in learning and development (L&D). There are so many jobs out there, the perfect one for each of us, we perhaps just haven't discovered it yet! Although I have applied very little of what I learned in my HR management qualification, it was through opening myself up to new experiences, to connecting with a wider HR community, that I started to appreciate what an L&D role looked like, and I was hooked.


I spoke to my manager and the Learning and Development Director with my employer at the time and told them of my career aspirations and how I would love to learn by supporting them in any way. I was performing well in my current role and so this was endorsed by my employer. I got some critical facilitation experience (working through the cringyness of how terrible I was the first few times) and understood what the role looked like "behind the scenes" – which is so important to gauge if a field is right for you. I had developed so many skills through my leadership roles that were key to success in L&D – it was my role to train and develop my team in ever creative and engaging ways as the organisation developed and to do that whilst managing the logistics of a busy store felt like an L&D career change wasn't too much of a great leap but I knew I needed a professional qualification in order to taken seriously and make the career change. Whilst on MAT leave, I signed up to another qualification with Avado – CIPD Level 5 in Learning and Development. I was pregnant at the time and so had the added urgency of working through my assessments before the baby came! I completed the qualification days before the first contraction and when I was ready to go back to work I started looking for Learning and Development roles.


Serendipitously, the L&D manager role in my current organisation had just become vacant and due to the projects I had supported the department on, they were aware of my passion and (hopefully!) ability to do the role. I'm not sure I would have been able to get a senior L&D manager role in a company that didn't know me at that time – my CV would potentially have been too much of a risk – but developing within a company I knew well and knew me, meant I felt supported and able to go for it in this new field. I haven't looked back since and absolutely love my job!
Kath and the wider HR team are an incredible group of people to work with. Kath creates an environment where everyone feels comfortable to contribute and everyone can add value. I haven't been with PDS for very long but I feel welcomed and supported to continue to develop my career. I have also felt this from Ian and Owen and the culture of the organisation and I'm reminded of the Richard Branson quote "Develop your employees well enough that that can leave, treat them well enough that they don't want to."
Every day is different! That is part of the appeal. From the outside, L&D is about facilitating training sessions but this is a tiny (albeit rewarding) part of the role. Research, planning and creative thinking as well as project management take up the vast majority of my time. But the biggest part of the role, the part that is interwoven in everything I do and is the deal breaker in terms of success and failure is connecting with people, *actually* listening to them and building relationships. L&D is for the employees and so can only work if this is never forgotten!