The Police Digital Summit is over for another year, and wow, what an event it has been!
The 2023 Summit, co-hosted by the Police Digital Service (PDS) and the National Police Technology Council (NPTC) has been bigger and better than ever, with a record 477 delegates joining us in Brighton.
A huge thank you to our Platinum Supporter VMWare, as well as our other sponsors this year; we couldn't make this happen without you.  Find out more about our sponsors here.
This year's theme was 'Stimulating the Future' and offered a unique opportunity to gain insight, share experiences, and foster collaboration among policing, government, industry peers and partner organisations. 
We were delighted to welcome the Minister of State for Crime, Policing and Fire, The Right Hon Chris Philp MP. It was great to hear how supportive he is of our work, he said, "We are huge supporters of PDS in the Home Office. They are doing critical work on behalf of the policing community."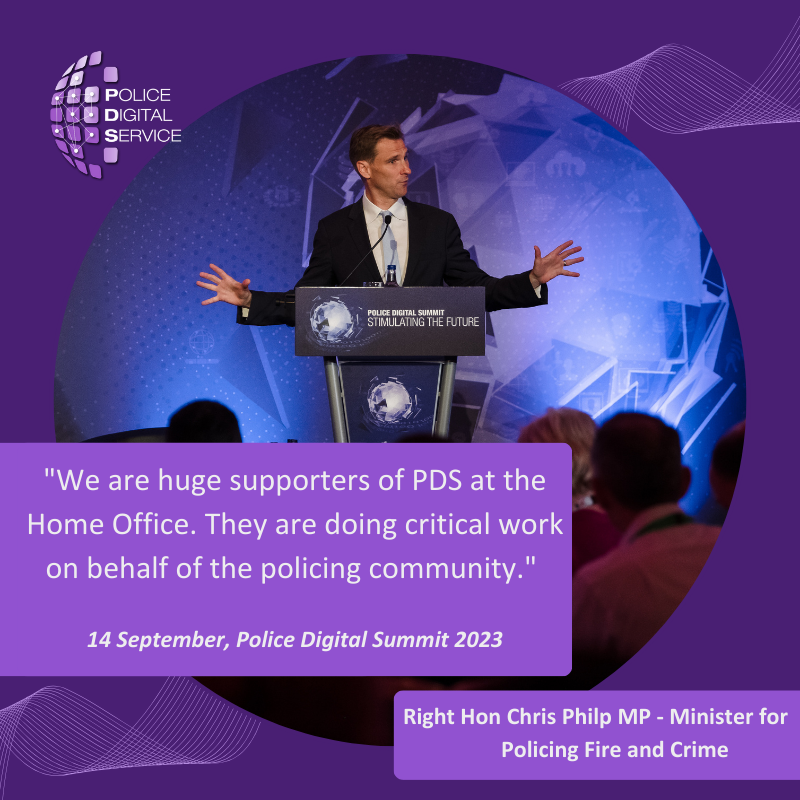 Right Hon Chris Philp MP
It has been a fantastic couple of days. The discussions taking place about policing in an ever-changing digital world were exciting and progressive and drew out key areas of focus for enabling UK policing. We have heard from a variety of influential speakers talking on how digital, data and technology are transforming policing and outcomes for the public. Assistant Commissioner Peter O'Doherty, City of London Police and National Police Chief's Council (NPCC) Co-ordinator for Cyber and Economic Crime, discussed cyber resilience and defending as one, and Dr Nicola Millard focused on delivering innovation and embedding change.
We explored how innovation can drive positive improvements in policing and how we can facilitate the adoption of new technologies with Professor Paul Taylor, Police Chief Scientific Adviser. There was a lively panel session where speakers, including Aimee Smith, Director of Data at the Metropolitan Police Service and co-chair of the National Police Data and Analytics Board, talked about the ethical use of data to drive artificial intelligence and an exploration of how data is reimagining how policing and the community engage with each other.  
Everyone was blown away by an inspirational talk from former professional wheelchair tennis player, Lauren Jones, who shared her story of resilience and amazing achievements despite living as a disabled person from the age of 13 after she fell out of a tree and broke her back.
Lauren Jones with Ian Bell
These are just a few of the incredible speakers, talks and moments that have been part of the Police Digital Summit 2023. Take a look below to see some more highlights.

Thank you to everyone who attended and see you next year!